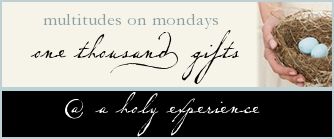 Two of my good friends,
Mary
and
Laura Beth
, have shared on their blogs what they are thankful for. Inspired by the above blog, they create lists of things they can thank God for in their every day lives. Today I visited that blog and was so encouraged that I have decided to do the same. If you are interested, you can click on the button above to learn more about it.
This season of life is full of change for us. Change for me can often be frightening as we move from the familiar into the unfamiliar. John is starting a new business. Yesterday we said goodbye to dear friends who have been with us since we first got married. Our children have never known life without each other. I have never known life in this neighborhood without Kim. To some this may seem insignificant, but to me, it isn't. So as I sit at a sort of crossroads, I am reminded to "give thanks in all circumstances." It is truth. I am called by the Lord to always give thanks. And what better time to do that than now?
(In no particular order)
#1: I am thankful for the Lord's provision. I am thankful that He "will supply all your needs according to His glorious riches in Christ Jesus (Phil. 4:19)." The Lord has provided for us in the greatest sense, through His Son, so will He not provide in the smaller senses in terms of physical needs? I know He will. He has. And I am thankful for this reminder in His Word.
#2: John. I am thankful for a husband who works hard and works in such a way that honors the Lord. And I am specifically thankful for him right at this very moment as he has taken two of our children with him to run errands. I am thankful for some down time to reflect and enjoy the quiet as Kate naps.
#3: On a less serious note, Coke. Ha! Yes, I am thankful for it. I know it most likely, okay undoubtedly, contains ingredients harmful to my body but let's face it, it's soooo good. It's refreshing. And I'm thankful for it simply because it's a little treat that honestly, in a small way, brightens my day.
#4: Friends who encourage me. I am thankful for all my sweet friends the Lord has placed in my life. They sharpen me and remind me of the Lord's goodness. It's just a small taste of Him.
#5: Family. I am so thankful for my family. I am thankful that those closest to me know and love the Lord. I am thankful that my children are surrounded by believers and I pray the Lord would use each of them and us to point them to Him. I have a family that is loyal and caring and always there (okay that means loyal).
That's just a starting point...as the days, weeks, months, years go on I look forward to adding more to the list just to remind myself of the Lord's goodness and that even in uncertain times I can and should always give thanks.