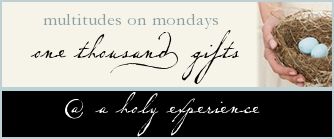 The past week has been a bit of a blur. Sickness has hit our home. Sickness has hit me. Twice. I'm not one to usually get sick. But sick I have been. Thankfully, it is nothing more than a nasty head cold that followed an illness associated with nursing. On top of sickness, a close friend's daughter had a major scare that ended her up in the emergency room. Though she was not my own daughter, I found myself praying as though she was. Then, on top of localized craziness, we have the sheer devastation in Japan and the continual and growing unrest in the Middle East. Life is crazy. This past week, near and far, crazy. However, in the midst of chaos, there is hope. My discipleship group is reading a great book, Trusting God Even When Life Hurts by Jerry Bridges. What wonderful words of truth this book brings as we walk through a world that is full of hurt and disappointment both small and large. Bridges writes to believers:
"Because God's sacrifice of His Son for our sins is such an amazing act of love toward us, we tend to overlook that it was for Jesus an excruciating experience beyond all we can imagine. It was for Jesus in His humanity a calamity sufficient to cause Him to pray, 'My Father, if it is possible, may this cup be taken from me' (Matthew 26:39), but He did not waver in His assertion of God's sovereign control.
Rather than being offended over the Bible's assertion of God's sovereignty in both good and calamity, believers should be comforted by it. Whatever our particular calamity or adversity may be, we may be sure that our Father has a loving purpose in it. As King Hezekiah said, 'Surely it was for my benefit that I suffered such anguish" (Isaiah 38:17)."
In the midst of uncertainty I can hold fast to the truth that the Lord "works all things together for the good of those who love Him, who have been called according to His purpose" (Romans 8:28).
So, from that, my list of thanfulness #s 11-15:
#11: Romans 8:28
#12: the good health report of my friend's little girl, Ada
#13: a HUGE answer to prayer, John's first job sold with his new job
#14: though everyone but John has been sick the past two weeks we have not had to go to the
doctor...another answer to prayer since we have yet to receive our new insurance benefits.
#15: that Kate slept through the night...11 hours STRAIGHT...thus giving me 7 1/2 hours of
uninterrupted sleep since Oct. 12th. Yes, I am that aware of my last night of full sleep
!