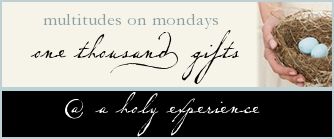 My time is short but we have experienced an abundance of the Lord's provision the past week and a half...
#171- EIGHT

sold jobs in a matter of DAYS. This is an abundance of provision, especially after going through a 6 week dry spell with no calls or any interest shown in the business.
#172- friends and family who have diligently been praying for work for John's business.
#173- a free movie ticket to see Courageous last night.
#174- a Christian movie like Courageous that uses the talents of believers to communicate the gospel and other Scriptural truths to its audience.
#175- in the midst of financial uncertainty, the Lord's provision that allows me to continue to stay at home with my children
#176- hearing my children repeat sound doctrine and Scriptural truth as we go through the catechisms almost daily
#177- a night out to eat at Chick-fil-a for Hannah's birthday...finally, a night off from cooking!
#178- being able to tell my children that yes, we will likely be able to go to the pumpkin patch this year.
#179- a "Sonic fairy" who so sneakily dropped a gift card to Sonic in my bag at church a couple of Sundays ago. Whoever you are, thank you. We enjoyed it immensely.
#180- 2 cool FREE new board games through House Party...my local ladies, I'm seeing a game night in our future.
Thank you Lord for your ABUNDANT provision.