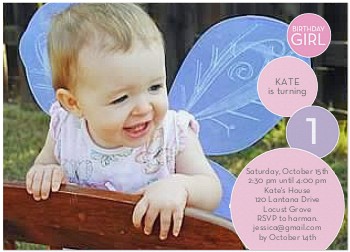 Birthday Bubbles Pink Birthday Invitation

Yes, that's my Kate, wings and all.
Thanks to Pampers Gifts to Grow I earned credit for Kate's birthday invitations through Shutterfly. And, thanks to Shuttefly, by posting this birthday invitation I made, I will get $10 credit toward my next purchase. . .I'm thinking Christmas cards.
As you might suspect, Kate's having a butterfly party per Hannah's request.
Thus, the wings.
I'll have a post of all the OTHER pictures I didn't use and of course, from Kate's perspective. She has a lot to say.
Anyways, as always, if you need cute invitations or announcements, photo books...etc. Shutterfly does a great job!!