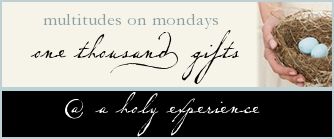 This week's list stems mostly around financial blessings. We are in a dry season, financially speaking and as I wrote this list I was reminded yet again of the Lord's faithfulness to us even in the small things. Money is still extremely tight but as I stop to see these little blessings I am reminded again of the Lord's name "El Roi," the God Who Sees. He sees us. He has not forgotten us. And He is using His people to show us that. My intentions are not to highlight our need but instead, to highlight how the Lord is meeting our needs, even if it isn't the way we would have planned.
Thankful for...
#156- parents and in-laws helping to make Hannah's birthday special by buying party supplies.
#157- two tanks of gas compliments of family and friends.
#158- a friend buying my dinner
#159- the opportunity to grow in humility as the body of Christ serves our family
#160- 4 free tickets (that included dinner and special seats) to Sesame Street Live and great company...again compliments of good friends.
#161- an inspection for John's business tomorrow.
#162- a house painting job for John to pick up some extra money
#163- think I've said this before but a husband who is willing to work extra hard doing unglamorous things to support our family
#164- a cleaning job for me thanks to a good friend
#165- an intact family, not a given for many as I was reminded of that today while watching the thousands of families grieve the loss of loved ones due to the terroist attacks
#166- extra money made thanks to a consignment sale back home
#167- a gift from a childhood friend of John's
#168- new shoes for Grant thanks to Mom
#169- thoughtful friends who are aware of our needs and have contacted me with possible opportunities to make extra money.
#170- a good friend paying me to watch her kids twice a week