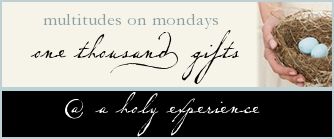 It's Monday...
My list continues...(even though it looks unorganized...I can't seem to fix it)
#106: A

SOLD

JOB for John's business. Praise the Lord!
#107: Another lead
#108: seeing my own selfishness in light of my children's ease
to share
#109: friends and family who diligently pray for me/us.
#110: friends and family who delight with us in our joys.
#111: friends and family who carry the burden with us in our
trials
#112: that we have a Friend in our sufferings who is far more
acquainted with trials and hardship than we will ever be
and that He offers us refuge in the midst of our struggles.
#113: a meal eaten out/a night off from cooking
#114: Grant's growing success on doing his business on the potty.
Do I dare say he may be fully potty trained (minus night
time)?
#115: the joy in Kate's face as she plays with her reflection in
the mirror
#116: lots of rain the past week
#117: daily reminders thanks to my sin that I can't do this thing
alone which lead me back to Him
#118: a "new" dress thanks to a giving friend
#119: two helpful children who actually enjoyed their new laundry
chore implemented today
#120: a week's worth of full night sleeps...