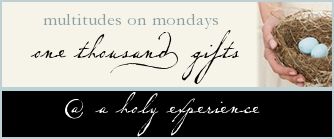 Thankful for...
146- my parents taking Hannah and Grant for a few days this week.
147- some extra "goodies" from Dan and Jeannie for our pantry and fridge (one being a 12 pack of Coke)
148- Grant's growing interest in putting his clothes on by himself
149- watching my kids learn
150- The verse: "He who did not spare His own Son but delivered Him up for us all, how shall he not with Him also freely give us all things?"
Romans 8:32 A continual reminder that the Lord has met my biggest need in Jesus and that He will,therefore, meet my lesser needs.
151- The words to Jesus I My Cross Have Taken
152- non spill bubbles (thanks Aunt Bethany...a HUGE HIT for everyone at our house)
153- hearing Hannah and Grant at different times tell each other "I love you."
154- people joining me on the homeschool journey
155- 2 frozen pizzas in the food co-op